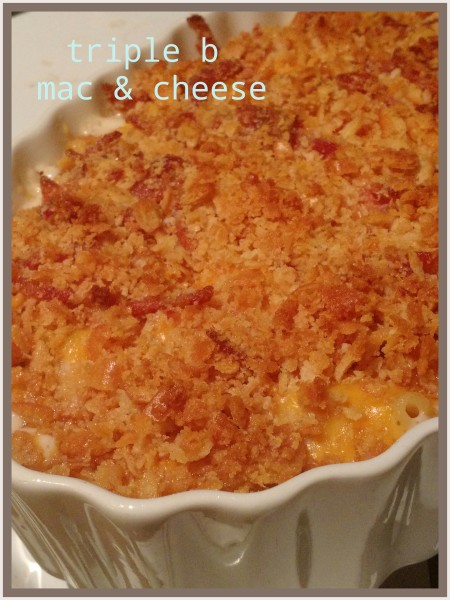 BBQ.  Everyone has their opinions of it, especially in the South.  Vinegar?  Brown sugar?  Mustard? Smoked with sauce?  Smoked with sauce on the side?  Pork?  Beef?  Never-ending discussion on this subject.
I do like some BBQ better than others but one of the best parts about bbq is the side dishes that accompany it.  And this new macaroni and cheese would own up to the best bbq at any picnic table – especially this weekend, as it is the official last weekend of summer and many tailgating parties are happening as well.

Triple B Mac & Cheese
Prep time:
Cook time:
Total time:
The perfect side dish to any bbq - or just a main dish waiting to be devoured
Ingredients
8 oz shell pasta
6 T unsalted butter
⅓ cup all-purpose flour
½ tsp kosher salt
½ tsp ground black pepper
2 tsp country dijon mustard
1 cup chicken broth
1½ cup heavy whipping cream
2 cups shredded monterey jack cheese
1 cup shredded sharp cheddar cheese
⅓ cup diced banana peppers
3 strips bacon (already cooked, diced)
¾ sleeve Ritz crackers
2 T unsalted butter, melted
Instructions
Boil water for pasta and cook the pasta according to directions, drain.
Melt down butter in a pan.
Once butter is melted add flour and salt. Whisk until combined.
Add pepper and dijon mustard and mix well
Add cream and stock and whisk for about 3 minutes
Add monterey jack cheese and turn off the heat.
Dump in the cooked pasta.
Pour all into a buttered casserole dish.
Top with grated sharp cheddar.
Mix melted butter, crushed crackers, and diced cooked bacon. Sprinkle on top
Bake for 20 minutes at 400.
EAT!
Triple B: bacon, banana peppers, and baked.  Creamy.  You can't go wrong.