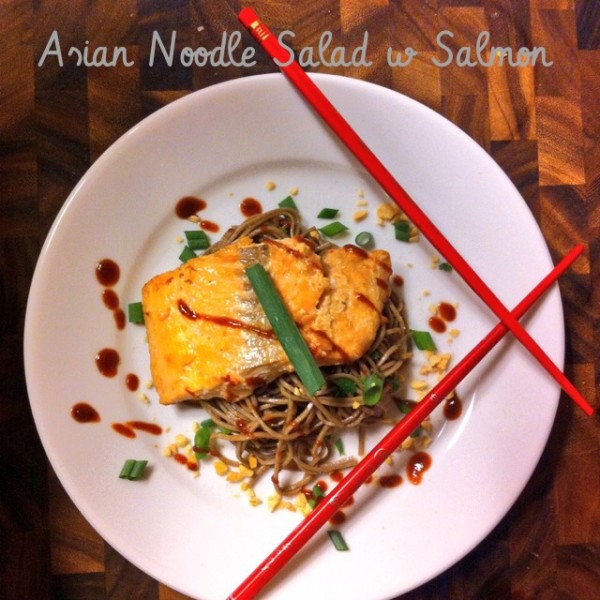 I absolutely love trying new foods.  I had never had soba noodles before so this was a new experience for both my husband and me.  It was a delicious recipe that I tweaked over from Laura at Blogging Over Thyme and she had sweet comments to say about the photos too!
So, be adventurous in this new year – eat this salad!
And, this is not a sponsored post from Gourmet Gardens, but I absolutely love their bottles spices.  So easy to use and tasty.  And as a cooking mom, who doesn't need convenience!

Cold Soba Salad with Red Chili Salmon
Prep time:
Cook time:
Total time:
Delightful noodle salad with salmon
Ingredients
1 pkg soba noodles (Japanese Buckwheat Noodles)
2 T sesame oil
2 T reduced sodium soy sauce
1 T sugar
½ tsp kosher salt
¼ cup chopped cilantro leaves
8 green onions, sliced thin
½ cup chopped, dry roasted peanuts
4 4 oz frozen wild caught salmon fillets
1 tsp gourmet gardens chunky garlic
1 tsp gourmet gardens ginger
1 tsp gourmet gardens red chili
1 T coconut oil
Instructions
Heat water to boil for noodles and cook according to pkg instructions.
Rinse under cold water.
Combine sauce and whisk together.
Pour over noodles.
Add onions and cilantro.
Let chill for at least 30 minutes
Heat coconut oil in separate pan.
Add spices and heat for a few seconds.
Cook salmon in pan until done.
Plate and top with more onions, cilantro, and peanuts.
Next time I will add snow peas or carrots.  Something to give the noodles more oomph!