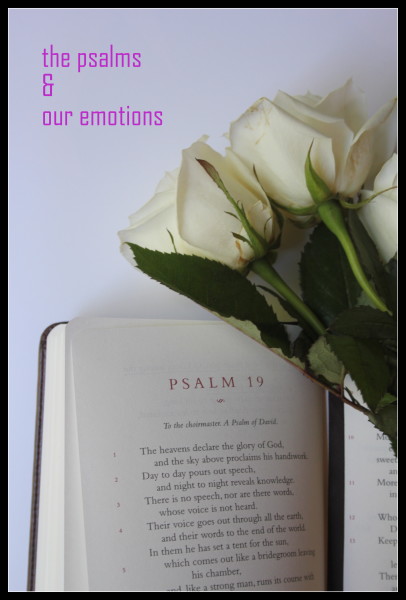 As a wife and a mom (and basically as a human being), I experience many different emotions every single day.
Love.
Joy.
Irritability.
Fear.
Impatience.
Sadness.
Anger.
Bitterness.
Things are out of control.
Competitiveness.
And the list could go on, but you get the picture.
God created us as whole beings, therefore emotions themselves aren't evil.  But, they have been affected by the fall – when sin entered the picture long ago we have a different bent on emotions.  But, the good news is we have been given something to help with our emotions.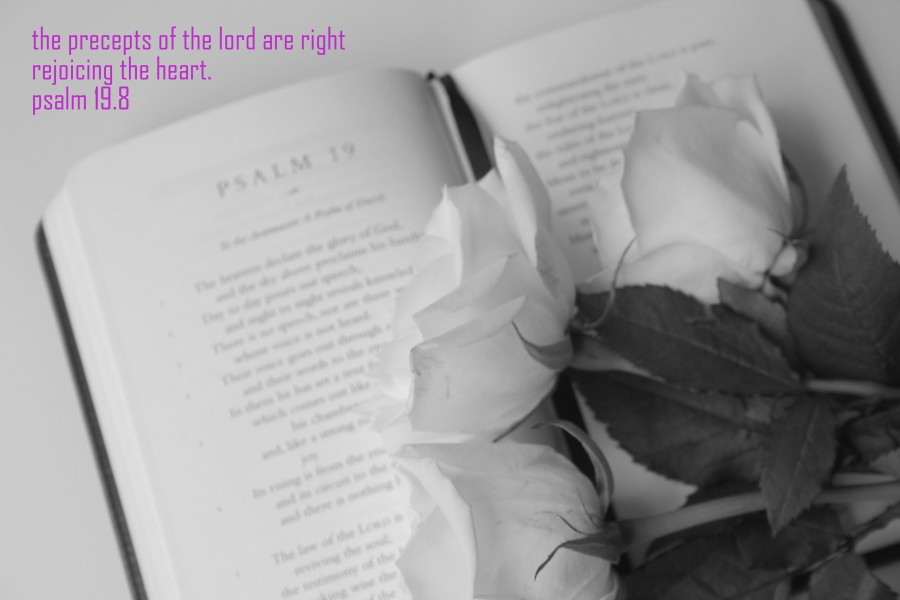 We have been given the Bible, especially the book of Psalms.  The Psalms to me is probably the most helpful book in the entire world when knowing how to deal with my emotions.  One of my friends told me early this year that one of the best disciplines I could would be to journal through the psalms, praying through them, crying out to God using his very word to direct my thoughts.  This practice has been so helpful in turning my thoughts and emotions back to God. This practice doesn't necessarily have to go with hard times when our hearts are torn.  But, it can help us specifically praise the One who deserves all the credit when things are going well in our lives.
Crossway recently came out with a Psalter that is amazing.  My sweet husband just gifted it to me.  He placed an order with random other household goods from amazon that he knew I would open.  I found the psalter.  I called him hoping I hadn't ruined a surprise – he said no, just thought it would be a happy.  It so was!  I'd been wanting it forever!  It is the perfect compact size to carry with me everywhere.  It has thick pages perfect for people like me who like to write in their Bibles.  And it is only the Psalms – which is perfect for reading and re-reading.
Another book has recently come out that has been helpful as I've started reading it.  And this post has also been encouraging.  IF you want a prayer journal that a wife can pray for her husband through certain books of the Bible, you can find one here on the blog for free that I wrote for the book of Nehemiah or the one I wrote for Ephesians.
One of the best parts about the psalms and the most instructive is how the writers deal with their emotions.  They aren't afraid to tell us what they are really feeling: doubt, fear, worry, anxiety, questioning, joy, praise, adoration, etc.  But, even when they are struggling in their faith – they always come back to the understanding that God is in control.  He is most glorious.  He is in charge of all things.  And that is why they praise.  They know that every situation will be handled by the Great BIG GOD who is gently leading and guiding them through all things.
I never want to shy away from my emotions.  I do want to run to my God who knows me and knows how all of it is going to turn out.  And you don't have to not share your emotions with others.  Christians should not be a stoic people.  (I mean, clearly, the Psalms is anything but stoic.)  But, with our sharing, let us always return to the hope of Christ. May we always take every thought captive to the obedience of Christ.