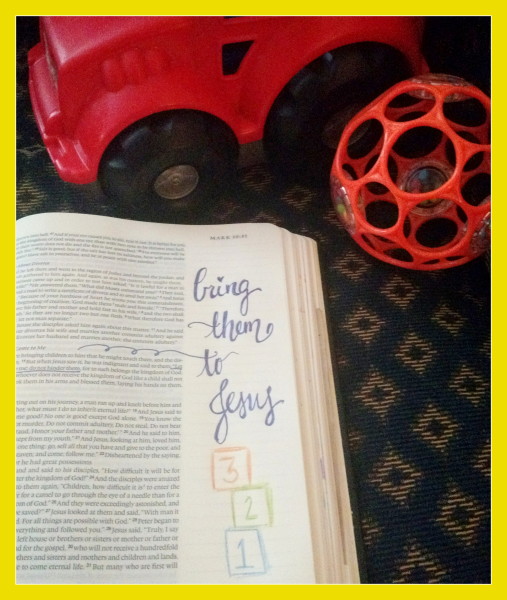 When our children are small, we teach them many important things to do: tie their shoes, brush their teeth, look both ways before crossing the street.  We teach them how to go to the potty, drink from a cup, and use a fork.  We teach them how to do so many things that are crucial for life.
Sometimes we forget to teach them important spiritual disciplines to help them get to know the God who created them.  The most important one we can teach them by both example and instruction is reading the Bible.  And what a better way to teach them how to read – then to read the Bible.
Why do we need to teach our children to read the Bible?
The Bible is God's voice to us today.  He breathed the Bible into life.  He used common sinners to record what the Spirit breathed.  This was written down and kept for us for all of forever.  This is by far the main way he chooses to communicate with his children today.  It is how they will know what is right and wrong.  It is how they will know what God is like.  Psalm 119 tells us so much about the importance of knowing the Word of God.
The Bible tells them how they were created.  Even from a young age, our children will be bombarded with many deceptions about who they are.  God created them in His Image and it is crucial they understand that.  They were created beautifully and wonderfully: no matter the skin color or chromosome count, or their family status.  Psalm 139 and Genesis 1 tells us that.
The Bible tells them why they were created.  All of creation exists for one reason: to bring glory to God.  God created human beings in his image so we could reflect the grand glory of God to the world.  Isaiah 43 clearly illustrates that truth.
The Bible helps us get to know God.  There is no person we need to know better than God.  And we can know God by reading His Word.  We can know his actions, his character, and his truth.  We can know His plan for salvation.  Psalm 19 and the Gospels illustrate this.
These are just the simple basics of why we need to teach children the Word of God.  We need a book on teaching Spiritual Disciplines to our children – anyone know of one.  I guess I could write it if someone is willing to publish it.  Any takers?
Tommy Nelson just released a 365 Read Me a Bible Story for young school age children and gave me a copy to giveaway.  What a great way to get them in the habit of reading the Bible and learning God's truth.  It has fun pictures, a Bible passage for each day of the year, and a short recap of that story.  What I would like to see is some follow-up questions that will help parents engage with their children during family discipleship time.
The most important thing to remember is that children are going to learn by your example.  If they see you reading your Bible, living it out, memorizing it, quoting it, then they will hopefully desire to know the Word as well.  We can pray that God would give them a heart like his – that desires to know God intimately through his Word.
If you would like to win a copy of this Bible story book from Tommy Nelson – tell me which of the 4 reasons listed above is the most important to you – and why and maybe how you are teaching your children that.