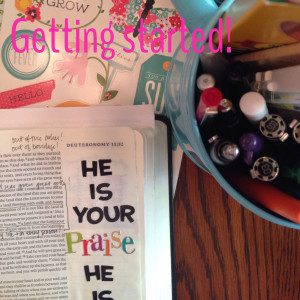 There is a whole new movement called Illustrated Faith.  Just a group of people wanting to meditate on the Word of God by making their Bibles more colorful.  Really, my Bible has never been more colorful – but here are some real reasons I do it.
I can get easily bored with just reading the Word.  I've not found it helpful in retention to read on my iphone.  I read it there – but if I'm really wanting to study and read for retention it needs to be in a quiet place with a writing utensil in hand.
I love creativity.  Being a mom has really sparked new creativity in me.  I've always been a creative person, but the last 3 years has brought more of that out in new ways.  I still write and cook – but also doing art for people to get the Word in the homes is something I'm really enjoying.
Meditation on the Word is commanded and a joy.  Right now I'm writing out Deuteronomy in a Journibible (more on that soon) and then meditating on a portion or a truth found in those verses by drawing or cross-referencing (looking for other verses that speaks of the same thing).  Today's reading sparked an obedience and boundary issue with me – and I wanted to search out the Scriptures to see why God set up the boundaries he did for us and why he demands obedience from his children.
How do you get started in Illustrated Faith.
1.  Get a Bible.  Any Bible will do – but I use a Journaling Bible from Crossway which has wide margins, perfect for journaling (whether writing or drawing).
2. Get a notebook or paper if you don't want to colorize your Bible.  I understand that may not be your thing.
3.  That's really all you need, but here are some fun extras: watercolor, markers, colored pencils, stickers, etc.  Its like high school art class all over again!  I didn't love it much then but I love it now.
Read – think – pray – journal.
That's all there is to it.  I always carry a pencil with me now.  As I take notes in church or Bible studies I think of ways to be creative.  It gets the Word in me – and isn't that what the base of Psalm 119 is!  You can find a lot of my doodles on instagram but I might start putting some on the blog as well.
Go – learn the Word and be creative!  The point of doing this isn't to see how creative you can be but how to bless your soul (and others you share what you learn with) by being in the Word!