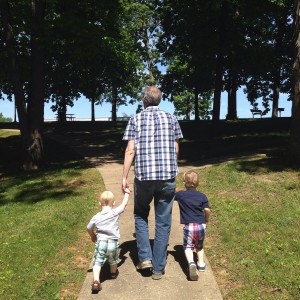 You know when you are supposed to do a book review for a giveaway in May and you can't find the book because your children love it so much that they've hidden it somewhere?  Yup, that's me.  Thanks Tommy Nelson for the book.
I did find the book stuffed under a car seat in the car.  The Daddy Loves You So Much book.
This is a companion book to one that came out a couple of months ago – Mommy Loves You So Much.  So glad they didn't leave the daddies out!
Daddy-life gets a bad rap.  I am so glad that they didn't leave us hanging wondering if the daddies loved their little boys and girls.  My husband definitely does.
I'm so glad that Fathers Day is coming up because it is a great day that my husband gets to celebrate being a daddy to those little boys of his.  HE loves to give them their baths at night (when he's home), he usually gets up the boys in the morning so he can have some time with them before he goes to work.  He works selling pianos right now and loves to have them come play some pianos at the store and then help him sweep up the store at the end of the day.
This book is full of wonderful illustrations and lovely created father-son/daughter animal characters.  It is a durable board book perfect for those lap-reading sessions at the end of the day.  My boys definitely love to read this one in the car looking at all the beautiful animals.  (Since they can't read yet).
This book definitely is a great celebration of fathers.  If you would like a copy of this book – perfect for Father's Day coming up – just leave a note either here or on Facebook about one way you love watching your baby's daddy interact with your children – or if you are a daddy – how you love to interact with your kids!