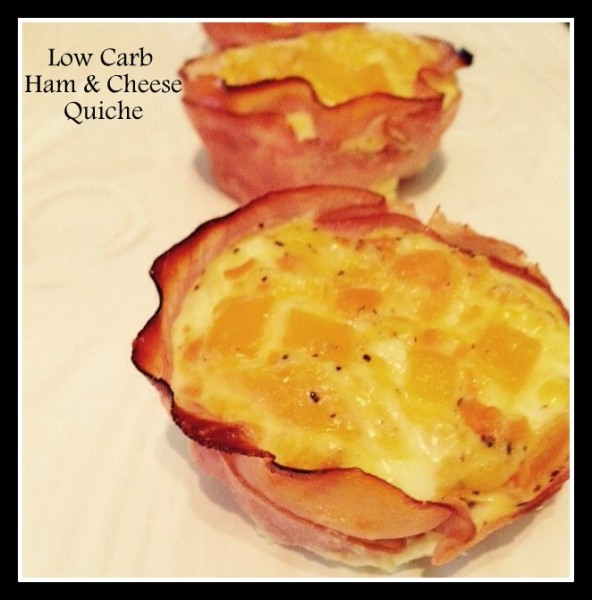 I always feel better when I eat low-carb, but it is such a difficult lifestyle to maintain.  When I eat too many carbs I always feel bloated and gain weight (mainly because I eat too much of the yummy bread of baked cheesy noodles – or cookies, cakes, brownies, etc).
These low-carb quiche are perfect for this lifestyle, but also are really quick to cook up one day and have for the rest of the week.  My kids were downing the ham as I was assembling them so they would most likely be kid friendly too.  And you can just pop them in the microwave as you head to school, work, or to the gym.

Low Carb Ham and Cheese Quiche
Prep time:
Cook time:
Total time:
Ham is your quiche crust and a veggie filled scrambled egg center. These are low carb and very tasty.
Ingredients
22 thin style deli ham (get a saltier ham, not a sweeter ham)
5 eggs
¼ cup shredded sharp cheddar (jack cheese would be good too)
1 cup whole milk
½ cup finely diced veggies (I used carrots and orange bell pepper)
salt and pepper to taste
Instructions
Preheat oven to 350.
Spray muffin pans (I made 11 muffins)
Lay out your ham slices as a "cupcake liner" in your muffin tins. I put two per tin.
Mix up your egg filling mixture.
Pour in each muffin tin about ¾ of the way full.
Bake for 20-25 minutes or until egg mixture is set.
Enjoy!