Fall – I think for a lot of us kitchen people its one of our favorite seasons.  Pumpkin.  Cinnamon.  Sweet Potatoes.  Apples.
But, I don't think I had ever experienced a Fall season until I moved to North Carolina in 2000.  See, I grew up in central Florida.  The only two seasons we had were Summer and Christmas Day (and some years we only had one season).  I loved it.  I was close to Disney World though I only remember going in high school and college when I would do Night of Joy with the youth groups.  I was close to the beach (though we had a pool, so my Dad couldn't figure out why we needed to spend money going to the beach).
But, I remember moving to Wake Forest, North Carolina to start seminary right before a huge snow storm – rethinking the whole moving north thing.  But, then fall came around at the start of my second semester.  I adored the sound the leaves made as I walked through them on my way to class.  I loved wearing jackets with my jeans (even though I would sport some flipflops usually).  I loved sitting down with a warm cup of chai or steamed milk or hot chocolate to study out on the lawn.  The bright blue Fall sky against the browns and yellows and reds of the leaves.  Gorgeous.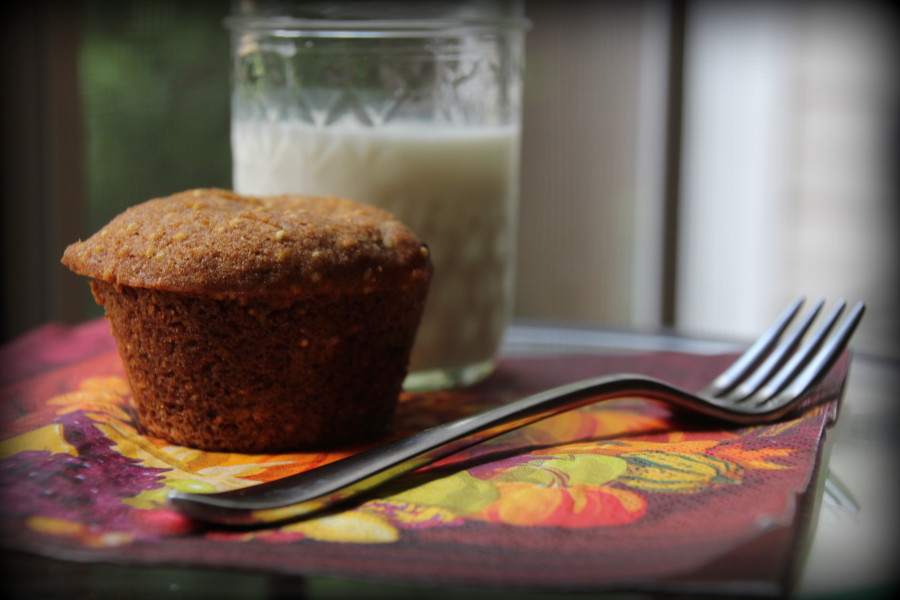 And of course, Fall brings pumpkin!  I could eat pumpkin goodies year round, but yesterday when I stepped outside for an early morning out, and felt the slightly cooler Atlanta air, I knew I was ready for Fall.  So, I whipped up these pumpkin butter muffins for my mister.  They were a winner. (This recipe was inspired by Joy the Baker)

Pumpkin Butter Whole Wheat Millet Muffins
Author:
the charming south kitchen
Prep time:
Cook time:
Total time:
Hearty and healthy muffins, of course with some chocolate. Perfect for Fall mornings or evenings!
Ingredients
½ cup vegetable oil
¾ cup packed light brown sugar
2 eggs
1 jar (10 oz) pumpkin butter (I used Trader Joe's)
2 tsp vanilla extract
1¾ cup whole wheat flour
½ tsp salt
1 tsp baking soda
½ cup dry millet (I found in bulk aisle at Whole Foods)
¾ cup mini semi-sweet chocolate chips
¼ cup milk
juice of ½ lemon
Instructions
Preheat oven to 350
Grease or line 10 muffin cups
Mix wet ingredients (up through vanilla)
Combine dry and add to the wet mixture
Mix the milk and the lemon juice then add to muffin mixture.
Fold in chocolate chips.
Spoon into muffins tins.
Bake for about 19 minutes or until muffins are done.
Cool and eat. My husband ate one topped w some raw honey this morning.