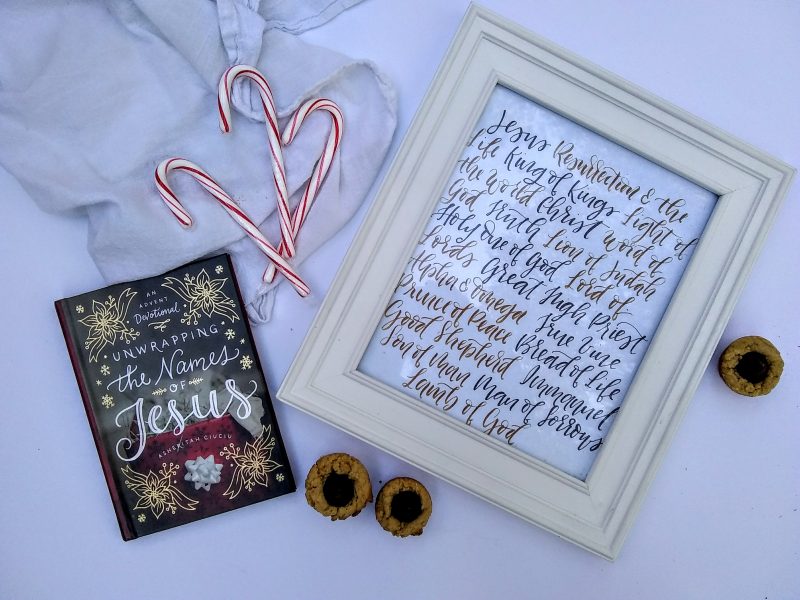 We still have apple pie leftover from Thanksgiving yesterday, but already we are getting in the mood for Advent over here.  My mister is busy with other preparing for the Christmas cantata at our church and planning for the Christmas Eve services.
We've done our Black Friday shopping and stood in line with others – thankfully everyone was in a good mood as we stood in line buying our Christmas goodies!
But, even though I didn't grow up with Advent (I'm Baptist by the way), I have come to appreciate it the last ten years.  It helps me slow down, focus on Jesus, think about the waiting period that happened in the world (both in the silence waiting for Jesus and the time we spend now waiting for his return), and plant meaningful traditions around my home and in my children even through the busy Christmas season.
My friend Asheriah Ciuciu has written a new book called Unwrapping the Names of Jesus.  This is a book that is short – not overwhelming – and focuses on 20 names of Jesus that you can study either by yourself or with your family.
Each day has Scripture, a prayer, application, prose, and Scriptures for further study.  The book also includes some information about why Advent – why celebrate it and what it is for or the intent of the church.  I'm glad that it is simple and asks questions.  We sometimes get so wrapped up in everything that we add our Advent study to the list of things we have to do instead of resting in just being with Jesus.
So, to help you start Advent, I've been given the opportunity to give a copy of Asheritah's book away and with it comes this download that I did featuring all the names studied in the book.  PS: you can just click above and go buy your download, its only $5.
Thank you to SideDoor Comm and Moody Publishers for this book to giveaway!
To enter giveaway: share a Christmas or Advent tradition!  That's all.