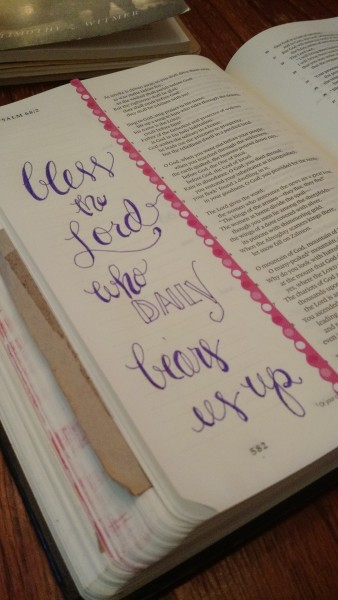 Some people may think I'm a good Mommy, but my husband and few friends understand what a struggle it is for me every day of the week.  I thrive on quiet and peace and I've been given two toddlers who love to scream and they giggle really loud and they say "hi mommy" 50 times in a row.  I wouldn't change them or trade them for anything.
So, here is what I say to myself often – and I need to say to myself more:
"Bless the Lord who daily bears us up." Psalm 68.19
Bless – praise, thank, admire, worship
the Lord – Jesus, God – the one who created everything including you and your children
Who: he is the one who does it!
Bears – gives strength
Us – you, me, anyone who will call upon his name
Up – he keeps us from falling.
The rest of the verse goes on to say that God is our salvation.  God is more than just your provision (Jesus) out of hell.  But God is your salvation every single day!
So, if you are like me and struggle in your mommyhood role – know that crying out to the Lord is such a source of help.  He will bear you up because He is faithful at his word!